5 Windows Tips and Tricks You Must Know
Here is a list of tips and tricks that writers often use when using windows:
Running various applications from Run
We can open applications directly without using the mouse clicking on the Windows menu – then searching for the application we want. First open the Run window using the Windows – R shortcut, then type the following list of application commands as needed:
Command
Command Description
Access several Windows tools
explorer
Windows Explorer
c:
Membuka drive C:
regedit
Registry Editor
services.msc
Windows Services (local)
taskmgr
Task Manager
msconfig
System Configuration Utility
mstsc
Remote Desktop (Microsoft Terminal Services Client)
logoff
Log Off Windows (tanpa konfirmasi, jadi pastikan kamu sudah menyimpan pekerjaan, jika ada)
shutdown
Shuts Down Windows
cmd
Command Prompt
notepad
Notepad
osk
On Screen keyboard
mailto:
Open Default Mail Application
Website address
Open entered URL in default browser
calc
Calculator
chkdsk
Check Disk
charmap
Character Map
cleanmgr
Clean Manager – Disk Cleanup Utility
clipbrd
Clipboard Viewer (hanya tersedia pada Windows XP)
cmd
Command Prompt
comp
Compare Files
colorcpl
Color Management
cttune
ClearType Text tuner
dxdiag
Direct X Troubleshooter
eudcedit
Private Characters Editor
fonts
Fonts
fsquirt
Bluetooth Transfer Wizard
ftp
MS-DOS FTP
iexplore
Internet Explorer
joy.cpl
Game Controllers
label
Volume Serial Number for C:
magnify
Windows Magnifier
microsoft-edge://
Edge
migwiz
Migration Wizard – Files and Settings Transfer Tool
mip
Math Input Panel
mrt
Malicious Software Removal Tool
msiexec
Windows Installer Details
msinfo32
System Information
mspaint
Paint
narrator
Narrator
powershell
Powershell
shrpubw
Create a shared folder Wizard
sigverif
File Signature Verification Tool
sndvol
Volume Control
snippingtool
Snipping Tools
stikynot
Sticky Notes
utilman
Narrator Settings
verifier
Driver Verifier Utility
was
Contacts
wf.msc
Windows Firewall with Advanced Security
wfs
Windows Fax and Scan
wiaacmgr
Scanner
winver
Windows Version (cek versi Windows)
wmplayer
Windows Media Player
write
WordPad
xpsrchvw
XPS Viewer
winword
Word
Word /safe
Word Safe Mode
Source:
https://winpoin.com/daftar-lengkap-perintah-windows-run/
List of shortcut keys in windows
Ctrl + A – Pilih semua teks Ctrl + C – Salin Ctrl + X – Potong Ctrl + V – Tempel Ctrl + Z – Mengembalikan tindakan sebelumnya (Undo) Ctrl + Y – Mengulangi tindakan sesudahnya (Redo) ALT + F4 – Menutup aplikasi Windows key + A – Menampilkan jendela notifikasi Windows + D – Menyembunyikan dan Menampilkan tampilan desktop Windows + . – Menampilkan daftar icon emoticon Windows + C Cortana Windows + P – Menampilkan Windows + L – Mengunci layar Windows + R – Menampilkan jendela
Run
Windows + U – Windows + E – Membuka aplikasi
Window Explorer
Windows + H – Membuka aplikasi speech Recognition Windows + X – Membuka menu windows Windows + V – Membuka jendela
Clipboard
Windows + M – Me-minimize semua aplikasi Windows + Shift + S – Membuka aplikasi
Snip & Sketch
untuk mengedit layar Windows + Tab – Menampilkan daftar aplikasi dan dapat berpindah ke aplikasi lain Windows – Right-Up (Memindahkan aplikasi ke kuadran kanan atas) Windows Key-Ctrl-Kiri atau Kanan (virtual desktop) Windows Key-Ctrl-D (desktop virtual baru) Windows Key-Ctrl-C (Cortana Listening) Windows Key-S (Laporan Harian untuk cuaca, berita, olahraga) Windows Key-Ctrl-F4 (menutup virtual desktop) Windows Key-Up dan Down (snap aplikasi ke atas atau bawah layar atau maksimalkan) Sumber :
https://tekno.kompas.com/read/2021/07/06/20200087/daftar-lengkap-tombol-shortcut-di-windows-10
Replace all file extensions in one folder
Sometimes we want to change the extension of many files in one folder to another extension without having to bother editing one by one, the use of the following script is to change all extensions from .html to .php

replace file extension = .html to .php

@echo off
REM %1 is the directory to recurse through and %2 is the file extension to remove
for %%f in (*.html) do (
    REM Path (sans drive) is given by %%~pf ; drive is given by %%~df
    REM file name (sans ext) is given by %%~nf ; to 'rename' files, move them
    copy "%%~df%%~pf%%~nf.html" "%%~df%%~pf%%~nf.php"
    echo "%%~df%%~pf%%~nf.html" copied to "%%~df%%~pf%%~nf.php"
echo.
)


Source:
https://stackoverflow.com/questions/3215501/batch-remove-file-extension
Fetches all filenames in one folder
Sometimes we want to retrieve all the file names in one folder, with this trick you don't have to bother typing one file name at a time, and you don't need to look for a special application for this case, just use a browser like Chrome or Edge then type the folder path you want. copy eg C:\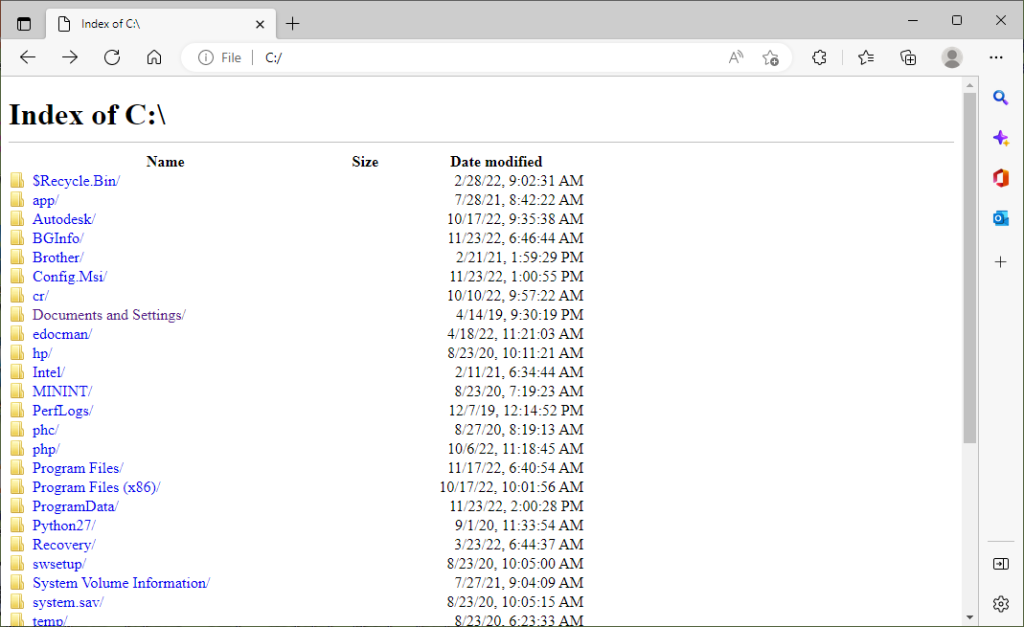 Optimizing Performance in Windows
"My computer is P4, RAM memory is 512 mb but how come my computer is still slow", that's a word that I often hear from my friends. Yes, of course, just look at the taskbar at the bottom left, this is the taskbar from my friend's computer
take a look at my computer's taskbar
Actually, it's not the computer that's slow, it's the users who don't understand. The logic is easy, just think!!! if all programs run in the background, a computer with 1 gigabyte of RAM memory will not be enough. The solution is simple, simply turn off unneeded programs while booting by typing
msconfig
On the Startup tab, tick the programs you want to turn off. Attention! You must know what is the use of the program to be turned off. On the Services tab, here's a list of programs that I recommend turning off:
Computer Browser ClipBook Error Reporting Service Help and Support Imapi CD-Burning COM Service Messenger NetMeeting Remote Desktop Sharing Network DDE Network DDE DSM Network Location Awareness (NLA) Remote Desktop Help Session Manager Remote Registry Smart Card Helper Smart Card Task Scheduler Secondary Logon Windows Image Acquisition (WIA) Telephony Terminal Services Telnet Distributed Link Tracking Client Upload Manager WebClient Portable Media Serial Number WMI Performance Adapter Wireless Zero Configuration
Oh yes, when we install the program it is often automatically loaded when we open the computer, for example, Winamp, OpenOffice and so on. To save memory, turn off unnecessary programs by clicking the StartUp tab and checking the programs you don't want to run.