Get to know Adsense and Admob, here are the requirements
You can make money through the
Adsense
and
Admob
features provided by Google. There are various other providers besides Google, which you can use such as
Adsterra
,
Applovin
, Facebook Ads, and so on. However, generally most of the people use Adsense and Admob. The following is an explanation of Adsense and Admob:
Adsense
Adsense is an ads provider that is used by 2 types of users, namely bloggers and youtubers.
Blogger
Bloggers use website media to display advertisements. To register a website to display adsense, the website must meet various requirements in order to be approved by Google:
Original and unique content, Google prefers original and unique articles from authors. However, rewritten/translated articles are still accepted
A minimum of 300 words per article, the minimum number of words is 300 per article, if more than 300 for example 500 words and 1000 words, the more words the better.
Does not contain prohibited content. The website must not display prohibited content such as gambling, pornography, cracking, pirated software, etc. If found even our domain can be banned.
The appearance of the website is not complicated, the website display is user friendly for users to find the desired information.
Please also read tips from Google in preparation for registering Adsense
https://support.google.com/adsense/answer/7299563
Youtuber
Youtubers use youtube video media to display ads. Youtubers are currently the main choice of making money from the internet compared to blogs and admob.
Persyaratan
: The requirements to be able to display ads on YouTube are:
Has 2-Step Verification
Have 1000 subscribers
Reached 4000 public watch hours
No active reports from Community Guidelines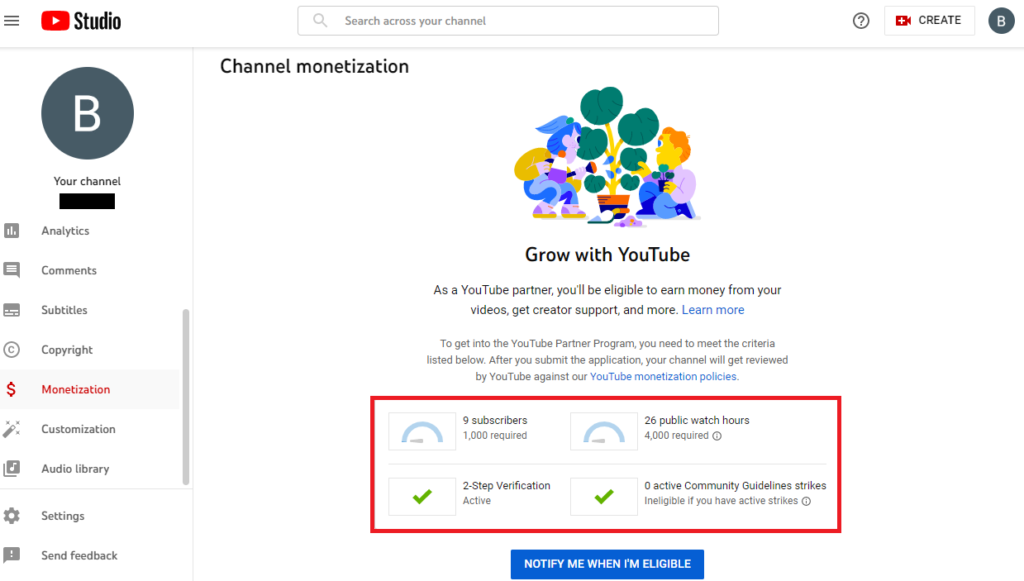 Admob
Admob is a provider that displays ads on mobile applications, such as Android and IOS. Admob does not have many requirements compared to Adsense bloggers and youtubers, the only condition is that you need to create an application and publish it on the Play Store or Apple Store, then you can register an application to display ads in your application.
Biaya pendaftaran developer
To publish apps on the play store and apple store platforms, you need to register a developer account, here are the costs: a.
Android
– 25$one time payment valid for life b.
Apple
– 99$ paid annually
Income
After knowing what Adsense and Admob are, then the next question is how much income is generated from Adsense and Admob writers? Here is the detailed description
Blog
For the Bagi2info.com website with an average monthly traffic of 20 visitors per day, here are the results that are only 4 thousand rupiah. Yes, blog income is very small, frankly the author doesn't focus on Adsense, makes a personal website just for daily notes, and the total number of articles is currently 49 Indonesian and 47 English, so less than 100 articles. The website for Bagi2info previously only used one language, namely Indonesian, recently added to display multi-language, namely English, to target a wider audience of visitors. How much traffic do you need to have if you want to make your blog your main source of income? Based on the information I read, your blog has at least 10 thousand visitors per day traffic.
Youtuber
The author does not have Ads income from YouTube because it does not reach the target requirements from Youtube.
Admob
For Admob, the income is
64K
with the number of active users with a total of
700
users, based on information the minimum number of active users is
10K
to get a decent income every month, here is the screenshot:
Please also read the article about admob
Tips on how to promote mobile applications
Cost
For beginners who want to get involved and want to know what costs are to be incurred, here are the details of the costs:
Bloggers
If you want to create a blogger without spending any money at all, then you can use free websites such as blogger.com, wordpress, google site, etc. All of these websites are free of charge, provided that your blog is a subdomain, for example: namablog.blogspot.com.
As for the custom web, here are the details for a blog with its own domain and hosting:
a. .com domain fee – 150k+ per year
b. Hosting fee – minimum 300k+ per year, depending on the hosting provider and hosting specifications
c. The cost of making a website using wordpress – 500 thousand+, zero if you can setup it yourself
d. Article fee – 20-30k per article with 300+ words, zero if you can write it yourself
Total Cost = 1,250,000 of 150k (domain) + 300k (hosting) + 500k (website) + 300k (10 articles x 30k)
Total fee per year = 750k = 150k (domain) + 300k (hosting) + 300k (10 articles x 30k)
Youtubers
a. Recording device – can use a cellphone camera so assume zero
b. Video Editing – 50k+ fees can swell depending on difficulty
Admob
a. Application – 2m+, depending on the complexity of the application, zero if you can make it yourself
b. Server – 500k+, depending on whether the application uses a server or not
c. Developer account fee – 25$ (one time Android payment) and 99$ (IOS per year)
Total Android special fees : 2,875,000 = 2m + 500k + 375,000 (25$)
Note:
Adsense and Admob have the same balance, if you reach the current lowest limit of 1,300,000 thousand / 1.3 million, then at the end of the month Google will transfer the balance to your bank account.
Making bloggers, YouTubers and AdMob as the main income is very possible, but it takes consistent effort and continues to work hard to produce continuous content. It is recommended to do this activity as a sideline first because you have to build this business from small to large.