List of Mandatory Extensions for Joomla Developers
1. Akeeba Backup
Always backup your website regularly, once a week or once a month if there are not too many changes / updates.Akeeba Backup will make it easier for you to perform backups including storage databases.Akeeba Backup provides a free version that is quite used for regular backup activities, but the paid version provides more features.
2. Fabric
If you want to create a custom application, you can try Fabrik. Fabric is a free component that allows you to develop programs that are integrated with the database in joomla. The features offered are quite a lot such as
forms, lists, captchas, file uploads, html editors
, etc.
3. Metamod
Metamod is a module that makes it easier for us to write php code in the module, and opens up various possibilities such as checking logins, being able to access other modules, changing the module parameters, etc.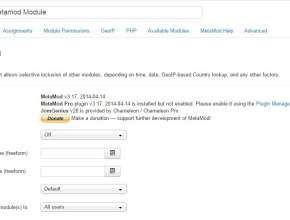 4. Sourcerer
The Sourcerer plugin allows you to insert php/ javascript / css style code in the Article.
5. Virtuemart
Virtuemart components make it easy for us to create an online store. Virtuemart features include user registration, product price setup, weight, delivery, invoices and sales reports.
6. Phalanges
Falang provides multilingual features that are integrated with the default
Content
feature from joomla. For the paid version, we can add other components and define table columns to support multilingualism.
7. JCE Editor
JCE Editor is an editor that can be used to edit content visually or commonly also known as WYSIWYG "What you see is what you get" without having to type html code.
8. Ignite Gallery
If your website needs an image album, then the Ignite Gallery extension is a very good choice. Creating a gallery album is very easy, just drag and drop the image once.
9. Edocman
Edocman extension is used to handle documents, you can create category documents and will be saved as a folder on the server, very suitable if your website displays various documents.
10. Modules Anywhere
With Modules Anywhere, you can include a single module or complete the module's position anywhere on your site, including in articles, inside other modules, or even third-party components and template replacements. You can place modules literally wherever you want, wherever you have the ability to enter text.